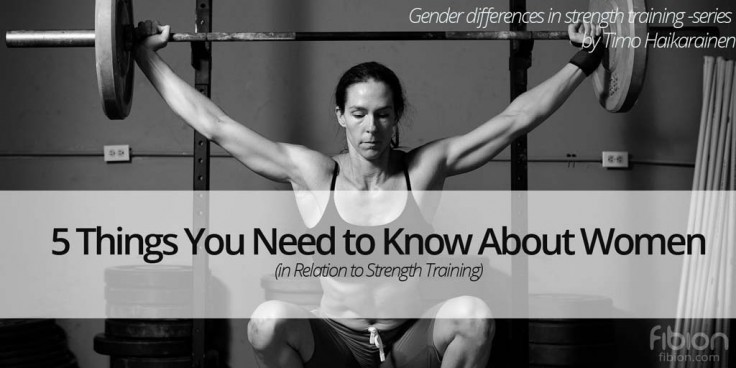 5 Things You Need to Know About Women (in Relation to Strength Training)

Gender differences in strength training –series 6/6
Summary and applications
1. Surface area of fast twitch muscle fibers, which have larger potential for growth, is relatively smaller in women.

Women should perform regularly maximum and explosive strength training workouts, which aim for 'as fast as possible concentric movement'.
2. If strength is expressed proportional to the lean body weight, women and men are equally strong in the lower body, while in upper body women are 30-40% weaker.
Women should invest relatively a little more to upper body workouts, especially in sports where upper body strength is important.
3. Anterior cruciate ligament (ACL) injuries are much more common in women

Special attention need to be paid for lifting techniques. Muscle balance of quads, hamstrings, and gluteus should be noted carefully. Movement skill and balance training is also helpful.
4. In women individual differences in gains in muscle mass are higher.

In most cases, gaining muscle mass requires very hard work. Although it is possible, that some women with intensive training can really grow muscles that are "too large" – at least in relation to their own goals.
5. Training stimulus should be varied more often in women.

In women, ability to activate muscles starts to decrease faster than in men. Exercises, intensity and changes in the volume of training should be done as soon as training starts to stall, and changes can be more radical than in men.